Europa-Combi Promo
De Europese voetbalcompetities gaan deze week terug van start. We hebben de Champions League, de Europa League en de Conference League. In elke competitie heeft België ploegen vertegenwoordigd. Uiteraard gaat de meeste aandacht naar Club Brugge die de vorige Europese wedstrijden menig vriend en vijand heeft verbaasd met haar swingend voetbal. Daarom een unieke Promo van Unibet Sport.
Speciaal voor de verschillende Europese voetbalcompetities heeft Unibet Sport de Europa-Combi in het leven geroepen. Selecteer een minimum van 4 selecties en je zal een Profit Boost van 50% op je wedformulier zien verschijnen!
Ben je van plan enkel te wedden op ploegen van Belgische bodem dan kan je Club Brugge, Kaa Gent, RAFC Antwerp en KRC Genk selecteren. Denk je meer kans te maken door de Europese grootmachten aan je wedformulier toe te voegen dan sla je geen mal figuur door Real Madrid, Juventus, Manchester City en Paris Saint-Germain te selecteren.
Hoe krijg je de 50% extra?
Log in op je Unibet account of maak er Gratis één aan.
Kies je combinatieweddenschap op de Champions League, Europa League en/of Conference League. Vier of meer selecties; Minimale inzet: €5; Maximale inzet: €10; Minimale totale notering: 4.00
Voeg de Profit Boost toe die op je wedformulier verschijnt.
Plaats je weddenschap en ga voor de 50% extra winst met een maximum van €1.000.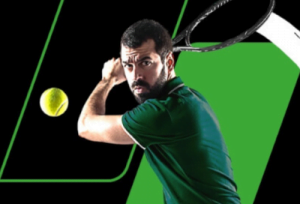 Live Profit Boost van 25%
Het grootste tennistoernooi van België is van start gegaan. De European Open heeft een toernooitabel om duimen en vingers bij af te likken. Er zijn niet minder dan 7 spelers uit de top 20 die deelnemen aan de zesde editie van het prestigieuze Antwerpse tennistoernooi.
Als je deze week een gokje waagt op dit ATP toernooi dan krijg je van Unibet Sport een extra Profit Boost van 25%. Het unieke van deze weddenschap is dat je ze live kan plaatsen en kan volgen op Unibet TV. Unibet TV zendt namelijk elke wedstrijd van dit Antwerpse toernooi live uit.
Hoe pak je die Promo?
Selecteer de live weddenschap van je keuze op het toernooi van Antwerpen. Enkelvoudige weddenschap ; Maximuminzet: €10 ; Minimumnotering: 1.80
Pas de 25% Live Profit Boost toe beschikbaar op je wedformulier. Krijg zo tot €1.000 extra winstverhoging.
Plaats je weddenschap en volg het resultaat live op Unibet TV.
De promotie loopt van maandag 18 oktober 2021 (00.01 uur) tot zondag 24 oktober 2021 (tot het einde van het tennistoernooi in Antwerpen).

De Promo's van Unibet Sport zijn onderhevig aan voorwaarden. Lees ze aandachtig op de website en speel met mate.
Het bericht Promo's bij Unibet Sport in de kijker verscheen eerst op Belgische Casino's.