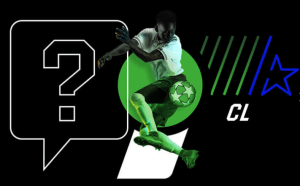 Voorspel Gratis de Golden Goal en win
De UEFA Champions League gaat weer van start en dat zal je geweten hebben. Unibet Sport heeft speciaal voor de wedstrijd tussen Club Brugge en Paris Saint-Germain een Gratis voorspellingswedstrijd in het leven geroepen : de Golden Goal.
Weet jij welke speler het eerste doelpunt zal scoren en weet je daarenboven wanneer die eerste goal valt? Dan is de kans groot dat jij met €5.000 Cash gaat lopen.
Hoe speel je mee?
Log in op je Unibet account of maak er Gratis één aan.
Ga naar de Promo pagina en klik op de banner van de Golden Goal.
Dien Gratis je voorspelling in en wacht met spanning af of je de €5.000 wint.
Profit Boost van 50% voor de Europese Bekers
Dat de UEFA Champions League terug begint weet je inmiddels. De andere Europese bekercompetities nemen deze week ook een nieuwe start. De groepsfase van de Europa League en de Europa Conference League worden gespeeld en jij kan daar een aardig Cash-graantje van meepikken. Tussen dinsdag 14/09/21 en donderdag 16/09/21 worden er maar lieft 48 wedstrijden gespeeld.
Voor deze 3 Europese Bekercompetities ligt er dankzij Unibet Sport een Profit Boost van 50% klaar voor jou.
Hoe pak ik die extra winst?
Kies je combinatieweddenschap op de Champions League, Europa League en/of Conference League. Plaats een combinatie van minstens vier selecties.
Voeg de Profit Boost toe die op je wedformulier verschijnt.
Plaats je weddenschap en speel voor 50% extra Cash of tot €1.000 extra.
Koning voetbal regeert zoals nooit tevoren
Voetbalgoden Lionel Messi en Cristiano Ronaldo hebben de transfermarkt op hun kop gezet met spraakmakende transfers. Zullen ze bij hun nieuwe clubs schitteren op het Europese toneel? Zal Kevin De Bruyne eindelijk z'n eerste grote Europese trofee pakken? Veel vragen waar alleen de tijd een antwoord op heeft. Wat zeker is, is dat Unibet Sport alles tot in de puntjes volgt en jou de beste noteringen geeft.
Profiteer vandaag al van die Gratis Golden Goal Promo voor €5.000 en plaats een weddenschap waarbij je tot 50% extra poen kan winnen.
Place your BETS


Post Views:
170